SEO, or search engine optimization, has turned into a massive industry. No matter how many times you approach SEO, it always has value to engage the discussion because of how quickly the industry is changing. Google, like all search engines, remains decidedly quiet about exactly how it works. It really doesn't serve them to let everyone know what's in the secret sauce. That doesn't quite mean that we don't know what's going on. Industry professionals continually analyze data in order to better understand how Google functions. It's not a perfect science, but it does provide a baseline at least to start from.Resource such as this one from SEO MOZ illustrate different important factors about a website in relation to search results.
What Are Search Engines After?
I believe that many professionals and business owners spend so much time deciphering the mysteries of SEO that we sometimes forget the basics. At the end of the day, search engines are pretty simple in their purpose: deliver the best content to the reader. The world we live in today was shaped, at least in part, through escalation. Search engines released an algorhythm designed to return results for a search term. Companies then discovered how to show up more often. Google's response was to introduce more complexity to better align with the original intent. Dozens of new SEO techniques showed up only to be countered and so on. The original intent of delivering the highest quality content to the seeker still remains the highest priority of every search engine. Nearly every release by Google, Yahoo and Bing are improvements toward this end. When Google's first Panda update was released in February 2011, it immediately affected a whooping 12% of all search queries. Google's latest update, version 3.8, continues to redefine searches toward the original goal is original content, nullifying SEO "tricks" and aligning search queries to focus back on great content delivery.
For a minor example how complex these things can be, this is just ONE of the dozens of complex "SEO Strategies" that you can Google: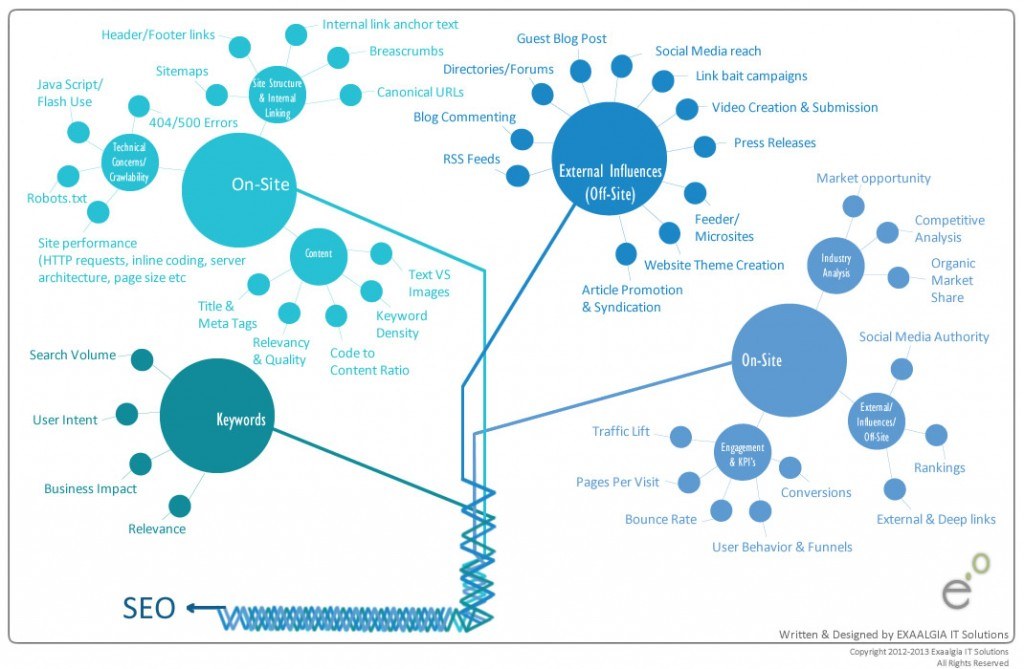 This happens to be one with a medium level of complexity (notice there are not even 100 nodes for social media).
The Bottom Line
This is such an insanely massive topic that we could go on and on because SEO is a billion dollar industry that is continually growing along with internet marketing and content strategy. Most people just want to know the basics: how can I just get this to work for my business?
The bottom line for us is what really matters. How can we explain and implement on a site by site basis the "Best Practices" of SEO and search marketing so that everyone can actually understand it? Our direction is to keep the focus on the content. We value content strategy as one of our primary means of developing long term success. That doesn't mean that link building strategies don't offer results, but in our experience a link building strategy is a short term game and the literal man hours it takes to successfully pitch a link building campaign make it very expensive.
An interesting piece called Nine in Ten Organizations Market with Content explains how many top organizations are turning to content strategy as a primary method of building long term success. Based on the research that is out there and our experiences, we tend to agree.
Practical Advice
Here are some practical ideas on what you can do to keep a pulse on what's happening and will also help connect you locally from an SEO perspective:
Get on Google Plus. It's a major tie in to your business to Google, local reviews, posting information, etc.
Make sure you are using some kind of analytics program to monitor your results.
Whatever you use for analytics, set up some kind of automatic email schedule within the software to deliver a basic overview to you each month. This will force you to look at it.
If a company can promise to put you on page 1 of Google, we recommend you stay far away from that relationship.
Use local vehicles like Yelp and Yellowpages.com to point to you correctly. If you don't fill out profiles manually, they will do their best to guess and it could be inaccurate.
Local reviews for your business make a massive difference in local results.